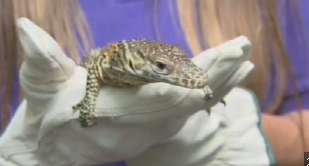 Phoenix, Realwonderoftheworld.com – The Phoenix Zoo is welcoming eight new residents, (24/9). The baby Komodo Dragons are on loan from the Los Angeles Zoo.
The four males and four females hatched this August. The babies weight only about five ounces each, just a fraction of the size of the zoo's adult Komodo dragons.
15-year-old "Gaia" weighs 75 pounds. Her brother "Ivan"weighs in at a hefty 117 pounds!
You can see the babies at the zoo starting this Saturday. They'll be on display through next spring.
Taken from kpho.com
For more photos, visit Real Wonder of The World Facebook.
—–
Follow us on Twitter @TheRealWonderID #KomodoRealWonder & Like us on Facebook